Travel goods make travel easy!
You know that organizers can be obsessed with containers and bags.  But when it comes to travel, having the right containers makes a huge difference.  I want to share some of my favorite items and places to shop for the best selection of travel bags and more.
Note – Make sure to check out The Container Store's short tips & videos for ideas to help you stay organized for travel.
1 – The Perfect Bag makes all the difference. You will need your roll on case but back packs are becoming very popular now for shorter travel. Check out this blog on Travel & Leisure for the best checked luggage.
I really like the Eagle Creek luggage. It is equipped with the 4 wheels for easy moving and great compartments and extra features. Eagle Creek has been around for a long time. The quality and warranty are excellent.
I've also come across a new line of luggage called Biaggi. Biaggi has travel bags that have zippers to enlarge or condense the size and can easily pack up into a small cube for storage.  You can find both brands at The Container Store.
And, of course, there are the classic bags which cost more but they are fabulous! Since, I am traveling a lot more these days, I just updated my bags to a gorgeous Tumi set. I also recommend Briggs & Riley for high quality.
2 – Create your body care set with all your body essentials. By having these all ready to go, you will save time and have less stress both before and on your trip. Then, take 3 minutes when you get home to refill the containers so you are ready for the next trip.
Here is a link to the page full of containers.  Clear & Simple's favorite are the GoToobs.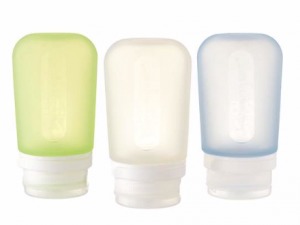 3 – Another of my all-time favorites is the Eagle Creek Pack-it Folders. These cubes make it easy to pack your items, keep everything neatly together. Then I love how easy it is to lay them out (in a drawer or on a shelf) wherever I am staying so I have easy access.
4 – Don't forget about your technology!  You spent money on your tech stuff so you want to protect it. You also want easy access. You can find some great options here.  A couple of my favorites are:

I hope these items and tips help you have a fun-filled and easy summer of travel! Stay tuned for a blog & video coming up where I will be showing all my travel gear.
Marla Dee – your guide to an organized and simpler life.