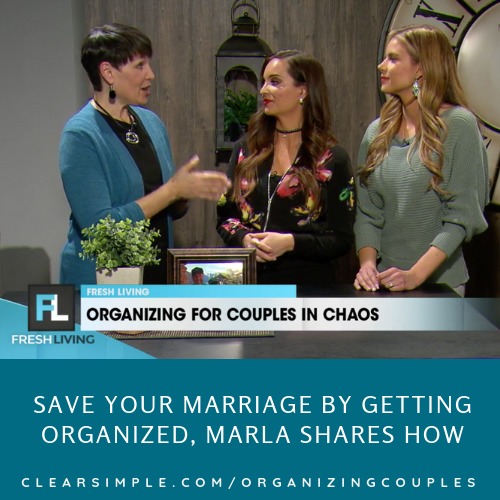 Try working together rather than battling each other!
I am often called a marriage therapist by the couples I work with. I am in their home, I see the clutter and chaos, I hear the overwhelm and frustration. It can feel hopeless to create a home that is peaceful and inviting. Use these practical tips to help make organizing easier and get closer as a couple. Your partnership is the most important relationship in your life.

http://kutv.com/features/fresh-living/get-your-home-and-marriage-organized


TIP 1: Let the bedroom be all about rest, intimacy and connection.
Remove all clutter, laundry, paper piles or projects.
After clearing the bedside tables, place items like candles, books or music that help you relax and enjoy each other.
Choose the furniture and items that you both love.
Keep the TV out of the bedroom.
TIP 2: Just like a weekly date night, schedule a weekly planning session together. Make this time meaningful and fun!
Choose a comfortable place, in or out of your home, where you enjoy being with each other.
Share your wins and disappointments from the week before. Genuine attention is the most precious gift you can give each other.
Have a shared calendar to track all the needed activities on.Look at the week ahead and share with each other what is happening and what kind of support you need. You can also handle meal planning and budgets during this time. Then it won't be hanging over you.
TIP 3: Honor each other's organizing styles. Each of you gets your "own space" to keep the way you want.
We tend to be attracted to and partner with our opposites. Each person needs their own space, their own hobbies and their own time to do their stuff. This will relieve stress and make time together more meaningful.
TIP 4: Share the load and/or delegate the keep it up tasks.
Our days are full of the keep it up tasks – cleaning, fixing, errands, calls, etc. Yet, we have really full lives and there just isn't time to do everything. So, choose what maintenance things each person enjoys doing (you might love doing laundry or yard work). Then hire out the tasks that neither of you has the time, energy or skill set to do. Examples of this would be to pay a housecleaner, professional organizer, yard keeper or meal manager.
I invite you to sit down this week with your partner and choose your time of the week for Tip 2. Make this fun and get to know each other in a whole new way. Please share your success with me at info@clearsimple.com or