Love lists? Dread lists? Try this cool tool!!
We are on fire about Wunderlist and we just have to share it!! We have known about it for some time, dabbled with it a bitand then got totally hooked. Because it is available across most devices, we always have our lists with us. We are able to MAP easily. We can share lists with other people through the app or by emailing them. We can also print and carry them around when needed.
A feature that we have just begun to use, but are very excited about is Emailing to Wunderlist. You simply forward the email to Wunderlist and it becomes a To Do. The subject is the Task Name and the body of the email gets put into the Notes. Even attachments are included on the To Do. Seriously? Thank you Wunderlist for giving us a way to clean out our inboxes!!
We are now running our whole business and our personal lives using this cool tool. We loves that it reminds us what to do and when to do it,  having one place to dump everything that we need to remember, and knowing can access it everywhere we go.
You can have lists for…
Places to visit
Personal To Do's
Work To Do's
Personal Projects
Work Projects
Books to read
Groceries – with sub categories for each store she shops at.
Check out Wunderlist on iTunes and Google Play. Go to the Wunderlist Website to download for other devices.
Wunderlist helps millions of people around the world capture their ideas, things to do and places to see. Whether you're sharing a grocery list with a loved one, working on a project, or planning a vacation, Wunderlist makes it easy to share your lists and collaborate with everyone in your life. Wunderlist instantly syncs between your phone, tablet and computer, so you can access your lists from anywhere. Take a look at the possibilities in the picture below! All of this possible in the FREE version, but they do offer a PAID version with even more options.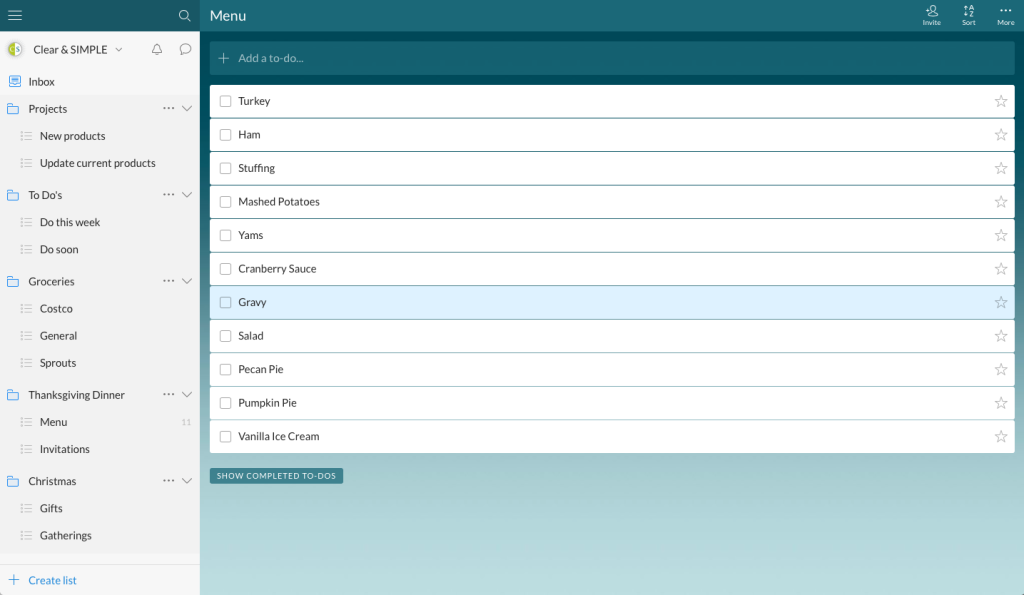 We hope you embrace this fun and simple way to manage your lists! Let us know what you think.
Marla
Creators of the Clear & SIMPLE Way to get & stay organized!