The Holidays are a favorite time of year! We love them and can also get stressed by them.
I am sharing my top organizing tips for the holiday season. These tips may seem simple but they help.  Have fun watching my segment on Fresh Living! Also, get our Top Ten Tips for Home & Holidays eBook FREE – see below.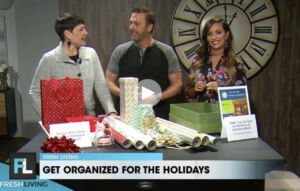 Here are my top tips for decreasing stress and adding JOY.
1.     Choose one theme for your decorations and gift-wrap to make it easier. You can really simplify by having one color gift wrap for all your holidays.
2.     Make Memories! Have fun making gifts along with favorite family traditions. Sit down together as a family and choose what would be the most meaningful time.
3.     Keep all your lists handy either in a small notebook or an app on your phone. I love the free app Wunderlist for all my lists.
4.     Get a fabulous container for the kitchen counter to handle the incoming paper and stuff.  Get one with a top so you can cover it up when company is coming over.
During November and December, get our FREE GIFT – TOP TEN TIPS for Home & Holidays eBook.
My team can come help you create a beautiful & organized home for the holidays as a GIFT to yourself. You deserve a joyful and stress-free holiday season!
I love my life and want you to love yours, Marla Dee