Containers make everything better!
Where are our container-lovin' peeps? You all know how much we love The Container Store for all of their savvy solutions, but do you feel the same? Perhaps these holiday gift wrap storage options will sway you. We were in The Container Store just the other day and were checking out the options…pretty great stuff right here!
We chose 3 different options at 3 different price points. No surprise that they have something for everyone and every budget!
This handy-dandy organizer has pockets for greeting cards, ribbon, bows, wrapping paper, bags, supplies and accessories. Smartly-designed pouches make retrieving supplies super simple. Rolled paper is held upright by velcro straps to keep it from being crushed when it is hanging, but easily release in order to fold the bag in half.

This nifty a-frame stand holds up to 12 rolls of wrap plus ribbons, bows, gift bags, accessories and supplies. It is light-weight which makes it nice and mobile. A hook at the top makes storing it in a closet a cinch.
The primo in gift-wrapping solutions, this cart can hold wrapping paper, bags, tissue, ribbon, supplies and more. It includes 3 small drawers and 2 large drawers and has a Melamine top. The fine mesh weave prevents small items from falling through.
Clipped to the cart is a Ribbon Dispenser, Gift Wrap Organizer and Accessory Basket. elfa is an entirely customizable system, so if this isn't exactly what you are looking for you can create your own.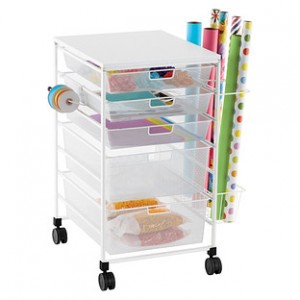 We would love to hear what containers you have found and love for storing holidays supplies and goodies!
The container fanatics,
Marla, Kate & Team
Gift Wrap Tree Photo Credit: A Little Tipsy
Full Disclosure: This post contains affiliate links.  If you click an affiliate link and purchase something, the company gives us a small percentage of the sale, at no additional cost to you. This supports us in providing the FREE content and support we offer regularly.
We carefully look at the products, services and people we recommend and always offer our honest opinion. We never, ever endorse a product or service that we would not purchase ourselves. No exceptions. In fact, most of these items/services we currently use ourselves.
Please contact us if you have any questions.
The Clear & SIMPLE Team.