A clutter free office
helps you focus on your
work.
Clutter is delayed decisions
and holding onto the past.
If you were standing at the doorway of your office with the person you admire most, would you be excited or ashamed? We certainly understand if your work space has become cluttered, disorganized and draining. This is what happens when your work expects more than you can give. You might be spending more time in your work space than at relaxing home. You might even be working from home! We wish more companies would give their employees, and more entrepreneurs would give themselves, at least one day each year just for clutter clearing and organizing.
If you are ready for an office that supports you rather than stressing you, we are here to help. You can start with just your desktop, supply area, or your paper.
Here are three great small projects that can be done in less than an hour. This will get you started and keep you from getting lost in the details. Keep in mind we will take you through SEE IT. MAP IT. DO IT.© for the whole room next. Choose one of the following ideas, schedule the time, turn on music and dive in. Have boxes and bags on hand for what goes elsewhere, donations, trash, and goes to other areas or to other people.
01  DO THE DRAWERS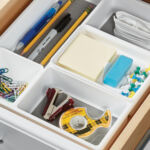 Get ready to have fun! Open your drawers and pull everything out. You can start with the desk catch-all junk drawer or the drawer you dump all your personal stuff in. These tend to be the worst.
After dumping out the contents, sort into general categories such as pens, paper clips, etc. This way you can see how much you really have. Then get rid of the excess or stuff that doesn't belong there or that you have never used! Honestly, how many pens do you really need? Now, put the drawer back together. Tip – use containers inside the drawer to make organizing and use easier.
02  CLEAR THE DESKTOP OR YOUR WORK SURFACE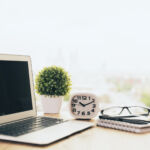 It's amazing how much stuff lands on the top of your desk making it impossible to work there!  It's time to clear the deck so you can be productive.
Look at what you're storing on your desktop. The only things that belong here are the active papers you are working on now, active tools, and your computer. If there are papers related to projects, or papers that need to be filed, move to the file drawer area. Supplies you don't use daily can be moved to a drawer. When you're done, place one item such as a plant, photo, or inspiration on top.
03  CLEAR THE FLOOR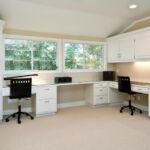 Start at the entry to your office/work area and work your way around the whole area staying focused on the floor. You might be surprised how much has landed here that doesn't belong or that is now past-time stuff (last year's financials).
Pick up, bag or box all the stuff that you know needs to leave and get it out of the room! Don't worry about the other stuff, it comes later. Then grab the broom or vacuum and clear away the old dust and grime. Return to the entry, look around and take in the difference. Just clearing the floor of old items can open space for new to come in.
Done? Take a deep breath. Notice how different your office feels? Now, celebrate what you've done.  Find more help below!
Your Guide Marla Dee.
I love teaching the Clear & Simple Way to live free of clutter and get organized at last.