Moving can be one of the most stressful things we go through. Whether you are a single person, a family or a business, it can be overwhelming and chaotic. As a professional organizer for 19 years, Marla has seen the pain her clients go through.  She also sees how often the boxes are still unpacked months or even years later!
TIP 1 – Clear the clutter FIRST! Start a couple months before the move. Schedule a couple hours at a time, or a whole weekend, to go through and clear the layer of stuff you know you no longer need or want. You don't have to do it all but everything you release saves you money. Get help from a friend, family or a professional organizer. Get help from our eBook The ART of Letting Go. You can download it on www.clearsimple.com/art.
TIP 2 – Create a simple plan for each area of the old home and the new.  Go to google to find wonderful checklists!
TIP 3 – Get the right TOOLS:
Use the real moving boxes.  They are extremely affordable. They make the move easier because you have the sizes you need, they can stack easily, they have handles where you need them, you can reuse or recycle them when done.
Get moving labels that make it easier to identify what it is the box. I love the ones that are a different color for each area. You can go to Amazon to see a variety of options,
Get the packing tape and tape guns to get the job done quickly.
TIP 4 – Hire professionals to pack and to move you. It will save you stress and money in the end.  However, be picky and interview different companies until you find a great fit for you. Often times professional organizers are less by the hour than moving companies and they do a much more organized job.  They can also help you put your home together on the other end.
Text your email address to 801-463-9090 and type "move" or email info@clearsimple.com to get a free digital version of our Organize Your Move Book. I want you to get organized and have fun doing it.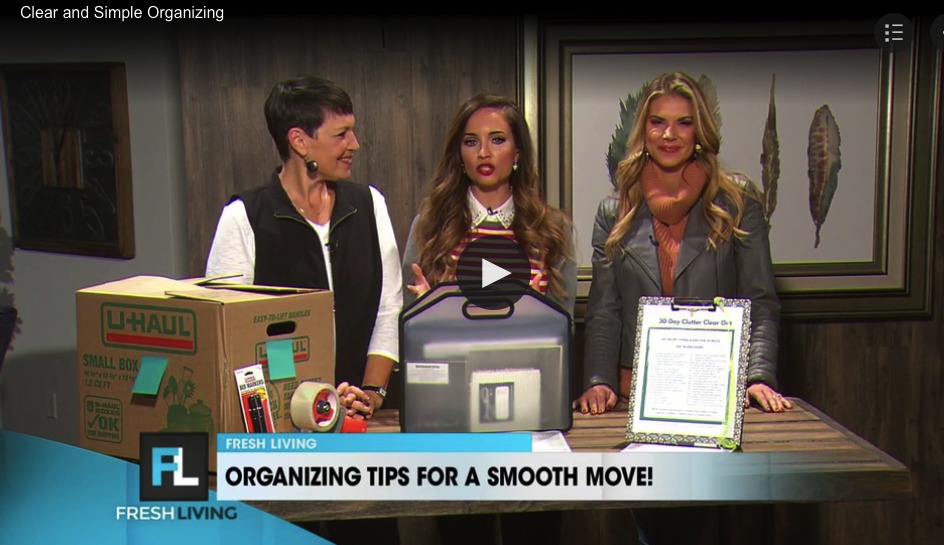 Make this next move the one you celebrate because it is smooth and has much less stress. The Clear & Simple Team.