Let's take a look at your Bedroom. Is it time for a change?
Is your bedroom a sanctuary or a dumping ground? As professional organizers we are often asked, "where should I start organizing in my home? There is clutter and chaos everywhere." Your bedroom is the place to start!
The bedroom often becomes the landing zone for homeless items, or the make shift home office, the TV room, or even a place where a person can't sleep anymore because there is so much clutter. This breaks my heart.
Your bedroom is meant to be a place of rest, relaxation, intimacy and healing. You spend more time here than anywhere else. It can be a favorite room in the early morning and late evening. One of the best gifts you can give yourself, especially in the cold months of winter, is creating a bedroom that is a sanctuary.
So here is a true story from Marla's past – I asked my talented friend, Jeanine Mallory of Fresh Space Organizing, to help with a client's bedroom. The woman had moved in months before, but her bedroom was boring and plain. She is a talented artist, loves color, fabric and unusual things. So we needed a makeover. By following the steps below and working together we transformed her bedroom in a day. We went shopping at Ikea! We hung purple curtains on the wall behind her bed along with sparkly lights. We brought in bright colors and candles. We used things she already had and found perfect homes for them. She now loves being in her bedroom. She is reading, journaling and sleeping so much better. How about you? Is it time for a makeover of your bedroom?
SEE IT – take a look at where you've been and where you are
Be brave. We invite you to take a look in your bedroom today and pretend you are a stranger. Just notice what is there and how it feels. Are there items that don't belong in your room and that drain you when you look at them? What patterns do you notice? What do you notice that you love? Take it all in.
MAP IT – make a plan for where you want to go
How do you want your bedroom to look, feel and function? Do you want color or neutral shades or a combination? Do you want busy or simple? Do you want to add something like a reading or meditation chair? What you do want to take out or change? Take 5-10 minutes and write down what you want.
DO IT – take the actions to get what you want
Choose an hour or a day to transform your space. Give yourself this gift. Here is a super simple solution:
Set the timer for an hour and remove the following things from your bedroom: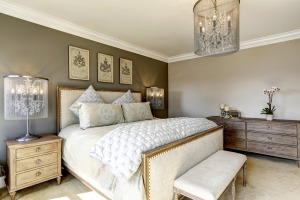 1 – Anything that doesn't belong in this space.
2 – Anything that is now past time or no longer relevant, like old clothes or broken furniture.
3 – Anything that doesn't support your vision of how you want your bedroom to be.
Then set the timer for one more hour and ask what you can add or move or change so that the room feels fabulous to you!
Please let us know what you do!
Marla, Kate & Team 
SEE IT. MAP IT. DO IT. © Copyright of Clear & SIMPLE, LLC. All rights reserved