Description
Price $10 / Value $25 / Savings $15
A fabulous collection of all our favorite containers and products!. The collection includes over 85 pages that you can print, customize, and use for yourself or clients. Why waste time trying to find things yourself?  We have done the work for you.  These products are the ones we have used the most with our clients for over 14 years!
Includes:
Pictures of our favorite containers and where to find them
Measurements of containers for ease in the assign and contain steps
Before and After Pictures to illustrate how we used the containers as storage
Here are some examples for common areas of need – the junk drawer, purse and more…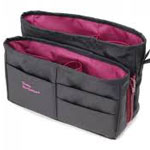 "With the Purse Perfector, place all your items once and find them in the same place in every purse, every time." This is the ultimate purse or bag organizer – designed with brilliant pockets, bright colors and so much more.
This is Clear & SIMPLE's favorite paper container and tool. Use it to hold incoming papers, replace manila folders, keep children's papers contained in backpacks, etc.